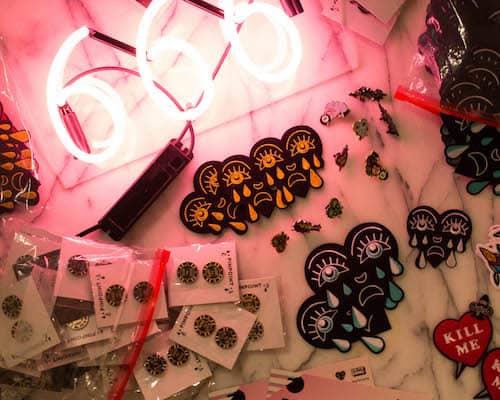 Bold will hold. This phrase, most commonly associated with the tattooing style of early traditional artists, signifies designing tattoos with a bold, thick line style that holds up beautifully over the years. Guys like Norman Collins (commonly known as Sailor Jerry) or his predecessor Amund Dietzel, preferred this style as smaller and more intricate designs tended to fade and wear away.
To the women who co-founded the breakout Greenpoint pin and patch company Pinpoint, the phrase applies in a different way. It not only drives their stylistic choices, but also serves as a metaphor for what it means to be young in New York and to begin a somewhat risky project with a lifelong friend.
Not surprisingly, Samantha Freeman and Emily June met during a high school art class in their home town of Cornwall, New York. As something that now seems like a predecessor to their future business together, they bonded over making stuffed animals outside of class. A few years later the two parted ways for college. Emily stayed in New York to study design and Samantha headed down to Florida to get her degree in dentistry. Years later they reconnected, and armed with new sets of skills and business savvy, they managed to found Pinpoint in the midst of navigating their lives in New York City.